** GREY GRIFFINS CLOCKWORK CHRONICLES **

* BOOK 1: THE BRIMSTONE KEY
"Fans of the Grey Griffins series will be thrilled to revisit their old friends in this action-packed adventure." – School Library Journal
"Characters are relatable and fun." – VOYA
"This plot driven adventure will appeal to young fans of Steampunk." – Children's Literature
A year ago, the Grey Griffins were just regular kids from Avalon, Minnesota. That was before they learned about the existence of evil faeries, werewolves, and other things that go bump in the night. Now they are monster hunters, celebrated heroes, and allies to the legendary Templar Knights — but even heroes have to go to school.
When the Griffins enroll at Iron Bridge Academy, a school where young recruits are trained in the fight against the forces of evil, they find themselves at the center of a whole new adventure.
The Clockwork King, a Templar foe from days past, has returned to finish the plan he set in motion decades ago: a plot to steal the souls of changelings and humans infused with faerie blood and supernatural abilities — to power his army of clockwork war machines.
* BOOK 2: THE RELIC HUNTERS
"Steampunk style abounds, with airships, aviator goggles, and clockwork robots" – School Library Journal
In just one semester at Iron Bridge Academy, the Grey Griffins have already had quite an education -dangerous clockworks, students with super powers, and a hidden land beyond our world where mystical creatures and incredible inventions exist. But as second semester begins, their friendship is put to the test — Max, Ernie, Natalia, and Harley are growing apart. When their arch nemesis Otto Von Strife reemerges with another evil plan, the Griffins must learn to set aside their differences and reunite to save the world. And each other.
With flying cars, killer clockworks, and renegade fairies, this sequel to The Brimstone Key features the popular Grey Griffins in an action-packed adventure filled with thrills, excitement, and hold-your-breath suspense!
* BOOK 3: THE PARAGON ENGINE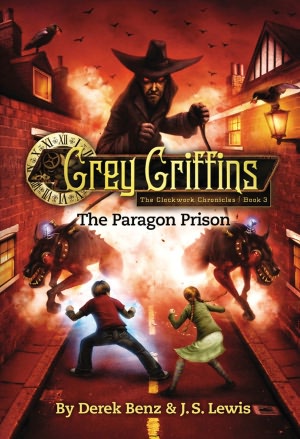 A new world means a world of trouble…
The Paragon Engine, a machine that can unlock portals to any dimension throughout the universe, is the most powerful and dangerous invention in Templar history-and the Grey Griffins have just been pulled through it. After they are transported through the engine, Max, Ernie, Natalia, and Harley have no idea what to expect. There could be vicious monsters or terrifying creatures lurking around every corner. But soon, they discover that this new world looksjust like theirs. Except there is one big difference: everything that went wrong in their world never happened and the Templar rule society. Is this world truly perfect? Or should the Griffins risk their lives to find a way back home? Things get even more complicated when they learn that their arch enemy, Otto Von Strife, is also in this world-and he has the power to destroy everything.
In this final book of the Clockwork Chronicles trilogy, the Grey Griffins face questions about destiny, personal choice, and what courage really means-all while finding a way to destroy Von Strife, his evil half-fairies, and his legion of killer clockworks.
** GREY GRIFFINS ORIGINAL TRILOGY **
* BOOK 1: THE REVENGE OF THE SHADOW KING
"The Revenge of the Shadow King has all the ingredients that make for great fantasy. I was hooked from the first page." – Jenny Nimmo, author of the New York Times bestselling Charlie Bone books.
". . . the portrayal of a dark and evil world slowly leaking into everyday, small-town life is both believable and creepy." – VOYA
". . . the story's fast-paced, adventure plot is compelling." – Children's Literature
"Constant danger and some humor keep this adventure moving." – Kirkus Reviews
Max Summer and his three best friends, Harley, Ernie, and Natalia – who form the secret club The Grey Griffins – seem to be the only people in their very normal Minnesota town to notice that strange things have started to happen. When creatures like goblins and fairies and unicorns, all characters from a card game the Grey Griffins play, begin to make appearances in Max's backyard, Max and his friends know something is terribly wrong. And it's up to them to stop the wicked creatures of the cards from destroying their town – indeed, their world!
* BOOK 2: THE RISE OF THE BLACK WOLF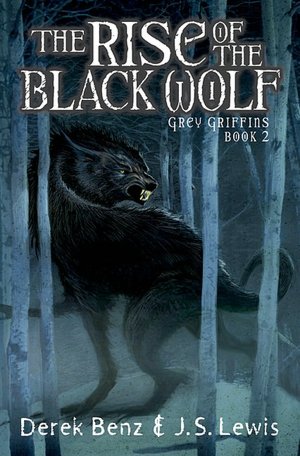 "The characters are well drawn and their relationships and feelings ring true." – VOYA
"Fast-paced adventure" – Kirkus Reviews
When Max Sumner and the Grey Griffins (Ernie, Natalia, and Harley) are invited to Lord Sumner's castle in Scotland over Christmas break, they look forward to a relaxing vacation filled with go-karts, comic books, exploring and more. But things go horribly awry when Max's dad goes missing, and an army of seemingly indestructible werewolves comes after them.
Will Max and the Grey Griffins be able to save his father from the Black Wolf Society and keep the powerful Spear of Ragnarok from falling into the wicked clutches of Morgan LaFey? Action, intrigue and suspense abound in this exciting follow up to The Revenge of the Shadow King.
* BOOK 3: THE FALL OF THE TEMPLAR
Lord Sumner has unlocked the secrets to the Spear of Ragnarok, unleashing a power that threatens to bring a second Ice Age. All hope seems lost until the Templar Knights discover clues that may lead them to a relic with the power to stand against the Spear.
Now Max Sumner and the Grey Griffins must join the Templar in a treacherous journey into the Underworld as they hunt for that lost relic and try and save the planet from extinction. But even if they make it through the underground labyrinth, an ageless dragon awaits at the end of their quest. Are they up to the challenge? Find out in the gripping legend of The Fall of the Templar. . .
** COMPANIONS **
* A GREY GRIFFIN COMPANION
A GREY GRIFFIN COMPANION is the complete guide to faeries, monsters, magical items, geography and heroes of Avalon, Minnesota and beyond. You'll read about little known facts, discover new details and see illustrations of your favorite characters, all written and drawn by Natalia Romanov and Ernie Tweeny, with help from author and illustrator, Derek Benz.